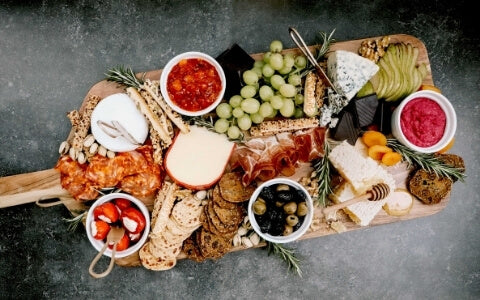 Straight From The Hive To Your Plate
Honeycomb is rustic, sweet, sophisticated, and rich, and a completely natural way to elevate your plate!
Honeycomb is simply casings of the honey where the bees store their finished products. The casing is made of tiny hexagonal cylinders of wax, that is perfectly fine (and delicious) to eat!
Manuka South Honeycomb is pure, raw and completely edible – cut directly from the hive, straight to the jar! It is distinctively chewy, with a little crunch here and there from the bits of crystallized honey, and is oozing with liquid honey, making it sweet, rich and extremely tasty.
But we often get asked, how exactly do you eat it? Here are 5 tasty ways for you to enjoy one of nature's hidden gems!
1. Have Them Asking For More With This Platter Combo
The most common way, and one that will shock your taste buds is honey + cheese on a platter. Honeycomb is a great addition to any platter as it pairs perfectly with bread, meat, and the best of them all.. cheese!
Strong Cheese Lovers

 

– Try blue cheese, chunk of Manuka South Honeycomb, and a slice of pear or apple
Mild Cheese Lovers

 

– Try brie or Camembert and chunk of Manuka South Honeycomb
Trust us when we say that cheese and Honeycomb will melt in your mouth and leave you wanting more! Not only does it balance the saltiness, but also adds a whole new texture that everyone will love.
2. Let It Slowly Melt Away On Your Favourite Bread
Honey on toast in a classic favourite, but have you tried Honeycomb on toast? Spread a spoonful of Manuka South Honeycomb over butter on your favourite choice of fresh, straight from the toaster – bread!
Or if you want to get a little more fancy, spread over pancakes, waffles, banana bread or scones.
Let the Honeycomb melt from the heat of the bread, you can thank us later for this one!
3. Upgrade Your Breakfast To Dessert
Just like honey, Honeycomb shines at breakfast time! You can add this to your breakfast in many ways such as;
Stir into yoghurt
Let it melt through a warm bowl of oatmeal
Add to your overnight oatmeal bowl
Spread on your toast
Add to your favourite breakfast smoothies
4. Step Aside Gordon Ramsay, Honeycomb Is Here!
Manuka South Honeycomb is a surprising addition that will take your dinners to the next level. Try a drizzle of Honeycomb with any of the below;
On top of pizza
Drizzled over your favourite fruit
Drizzle on top of salads – The sweetness and chewy chunks make things more interesting and salads more fun!
Over top of your favourite chicken dish
In your baking dishes
Drizzled over top of vanilla ice cream
+ many more! It pairs perfectly with so many pantry items that you will be purchasing more faster than you thought!
5. Straight From The Hive To Your Spoon
Lastly, but not least.. the most pure, delicious indulgent way to eat Honeycomb straight from the container.
It will become your favourite guilt free treat at the end of the day, and you won't stop at one spoonful – you will be left wanting more!
So there you have it – 5 tasty ways to add Manuka South Honeycomb to your everyday dishes! You can purchase yours here and get it straight from the hive to your doorstep!