Mānuka Honey - What is it?
Honey is honey… right?
I mean… All honey comes from bees which collect nectar from flowers, so Mānuka honey can't be all too different to normal honey!
Well, for us to be able to make a clear distinction between Mānuka honey and regular honey, we need to understand a little more about honey in general.
History has shown that Mānuka honey has been favoured in Māori medicine for centuries. However, it wasn't until the late 19th century that honey was discovered, by researchers, to have natural antibacterial qualities including:
1. The ability to protect against damage caused by bacteria
2. Assisting in triggering cellular repair responses
3. Acting as an anti-inflammatory which can help ease pain and inflammation
That being said… not all honey is created equal.
The history of Mānuka honey, in New Zealand is an interesting one!
This honey can only be produced in New Zealand, in areas densely populated by the native Mānuka bush (also known as the Leptospermum Scoparium). It's the wonder-honey with antibacterial properties which, once upon a time, honey producers couldn't get rid of fast enough. Beekeepers used to throw it away because of its perceived 'earthy' taste when they compared it to regular honey.
However, in the mid 1990's Waikato University, in new Zealand, commissioned research into the native honey with the goal of characterising a previously undescribed property found inside it. Throughout their research, some samples were seen to be both antibacterial and antimicrobial. This means that the honey was seen to possess qualities which were destructive to, or inhibited the growth of, both bacteria and microorganisms. In their testing, they observed potentially harmful bacteria and microbes die after coming into contact with Mānuka honey.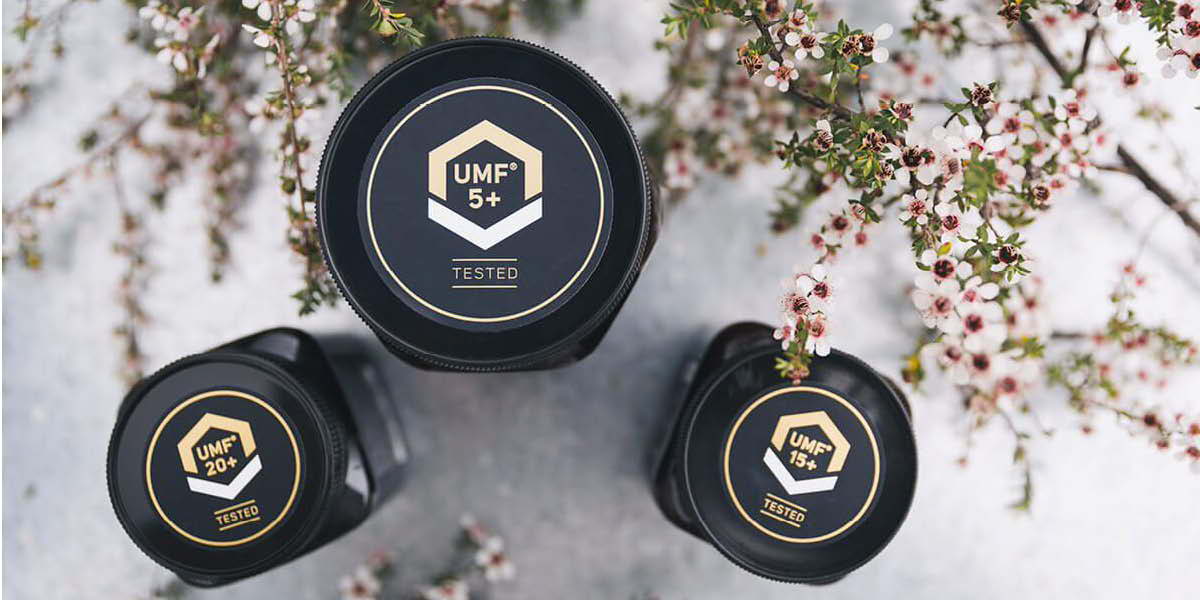 So Mānuka honey is special... but what is UMF™ Mānuka honey?
Dr. Peter Molan, lead researcher into the properties of Mānuka honey, made a recommendation to categorise Mānuka honey by it's UMF™ – or Unique Mānuka Factor.
This all comes down to the different chemical markers found in Mānuka honey and the varying levels of:
Methylglyoxal, to give it its full name, is the source of golden mānuka honey's special antibacterial properties and an important potency measure. The higher the MGO, the stronger the concentration of MGO. The UMF™ guarantee means that you can be sure that Mānuka honey bearing the UMF™ mark contains the special activity.
Dihydroxyacetone (as it's known to us) is slowly converted to MGO in healthy living honey. The higher the DHA content, the longer the life of the MGO content in your mānuka honey – which is why the best mānuka honey must have more than 70 mg/kg DHA to be UMF™ certified.
LEPTOSPERIN FOR AUTHENTICITY

Leptosperin is a compound found only in mānuka flower nectar and can only be created by nature. Measuring this unique component ensures the authenticity of mānuka honey. Laboratory research also shows leptosperin content has anti-inflammatory properties that grows as the UMF™ scale increases.
We test for hydroxymethylfurfural, since this long-named compound assures honey has not been overheated or stored too long, and is in the best condition to maintain the unique blend of living properties in mānuka honey as promised by your favourite supplier.
The concentration of MGO is what dictates the UMF™ grading of a particular batch of honey, and this compound is most likely the cause of its natural health properties.
To put the grading system into context below are four of the most common UMF™ grades and their uses: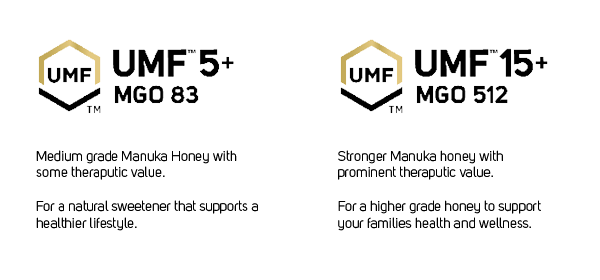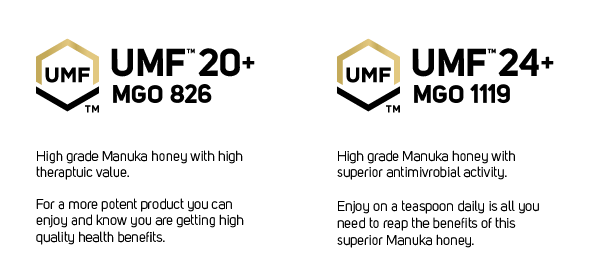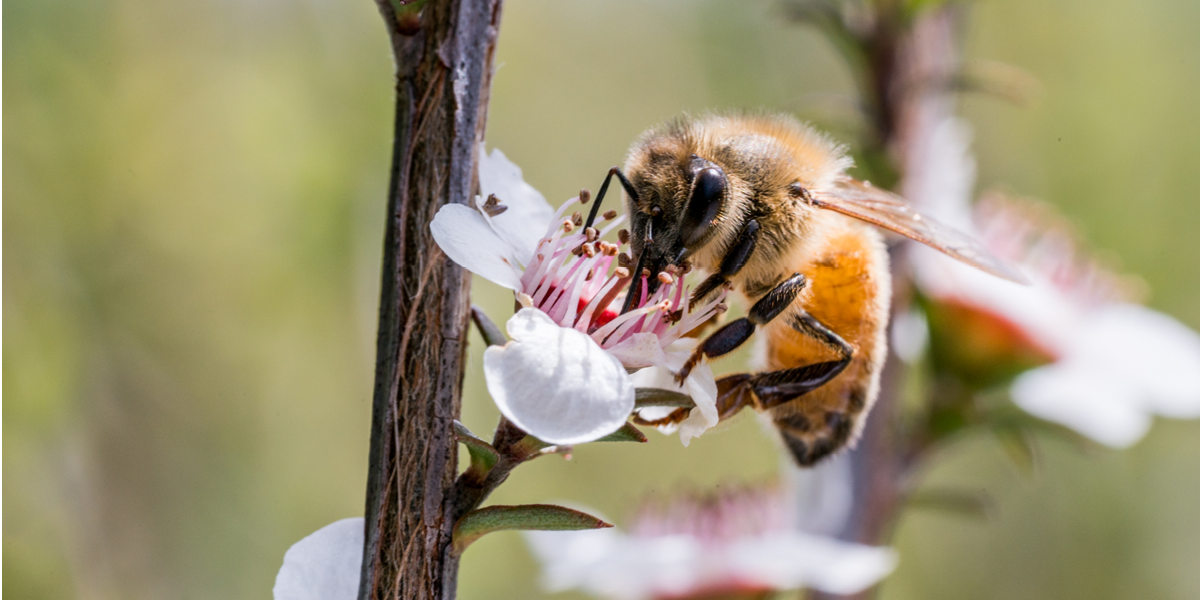 Why high grade UMF™ Mānuka honey is so rare?
As well as its superior healing properties, higher UMF™ Mānuka honey often fetches a higher price tag due to its rarity.
Mānuka flowers within a very small six-week window during the New Zealand summer with UMF™ grades 5+ to 20+ accounting for 99% of that harvest annually.
Anything above a UMF™ 24+, but below a 26+ accounts for 0.9% of the annual harvest.
Mānuka honey that is graded UMF™ 26+ and above (like our Limited Reserve range) accounts for just 0.1% of the harvest each year.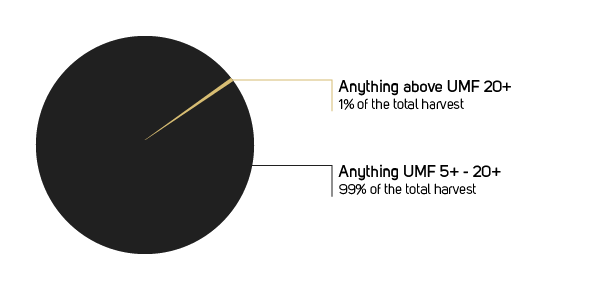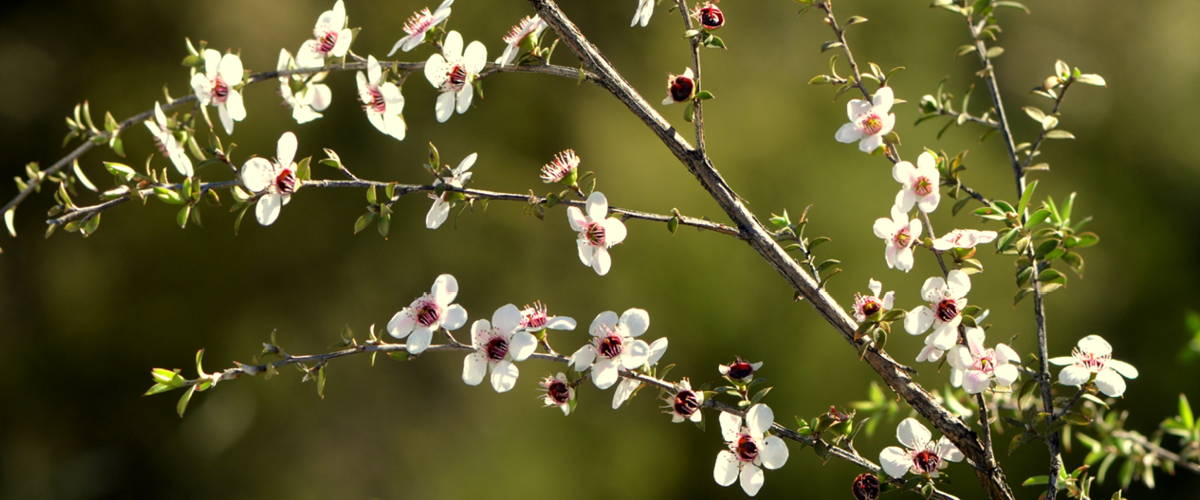 Benefits of UMF™ Mānuka Honey
UMF™ is a quality trademark and grading system identifying natural unadulterated Mānuka honey that has a special unique natural property found only in some strains of Mānuka honey. The UMF™ grading system appraises natural markers found in Mānuka Honey, and assures purity and quality. To receive a UMF™ grading, a honey must have the presence of DHA (dihydroxyacetone), Methylglyoxal, and Leptosperin.
Unique Mānuka Factor (UMF™ ) Honey Association is an independent body formed by New Zealand Mānuka producers. UMF™ Honey Association was created to benefit both the Mānuka honey supplier and consumer.
By testing and rating Mānuka honey the supplier can brand and seal their product according to quality and purity while the consumer benefits from knowing that when they buy a Mānuka honey product with the UMF™ label that they are getting a high quality and independently tested product that will accurately reflect the information stated on the label.


The natural healing properties of honey have been recognised by traditional medicine for thousands of years. These properties are typically not stable however, this is due to naturally occurring hydrogen peroxide found in honey. Mānuka honey has been described as having other additional and stronger antibacterial properties than most honeys.
This is due in part to the DHA (dihydroxyacetone) and MGO (Methylglyoxal) content, which is also referred to as non-peroxide activity. MGO is actually created from the DHA that is present in the nectar of the Mānuka flower and is only found in high concentrations in Mānuka honey. For this reason the MGO content can be used to identify whether a honey is pure Mānuka or not.
There is a direct relationship between the concentration of MGO in Mānuka honey and how strong its antibacterial properties are.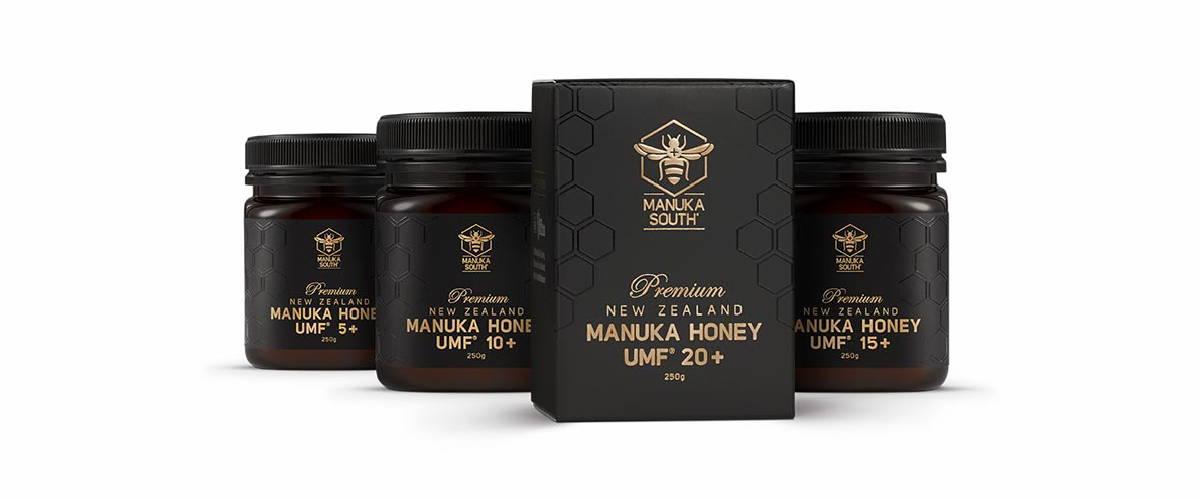 Most reputable Mānuka honey sellers use a rating system called UMF™ or Unique Mānuka Factor. This rating system takes into account the amount of MGO present in the honey in combination with other qualities that are specific to Mānuka. Once this is determined the honey can then given a number rating such as UMF™ 10+ or UMF™ 15+.
The lowest UMF™ rating number is 5+ and the highest is 25+. UMF® 25+ honey is very rare and not often seen in the market place. Any UMF™ rating above 10+ has been historically described as 'highly active'.
However without the official UMF™ rating, simply labeling a honey as 10+ Active does not mean that it has been tested to the standard of UMF™ and a 10+ Active rating on a honey label can be misleading to consumers.
Always look for the UMF™ rating to be confident that you are getting the level of quality that is associated with UMF™ testing.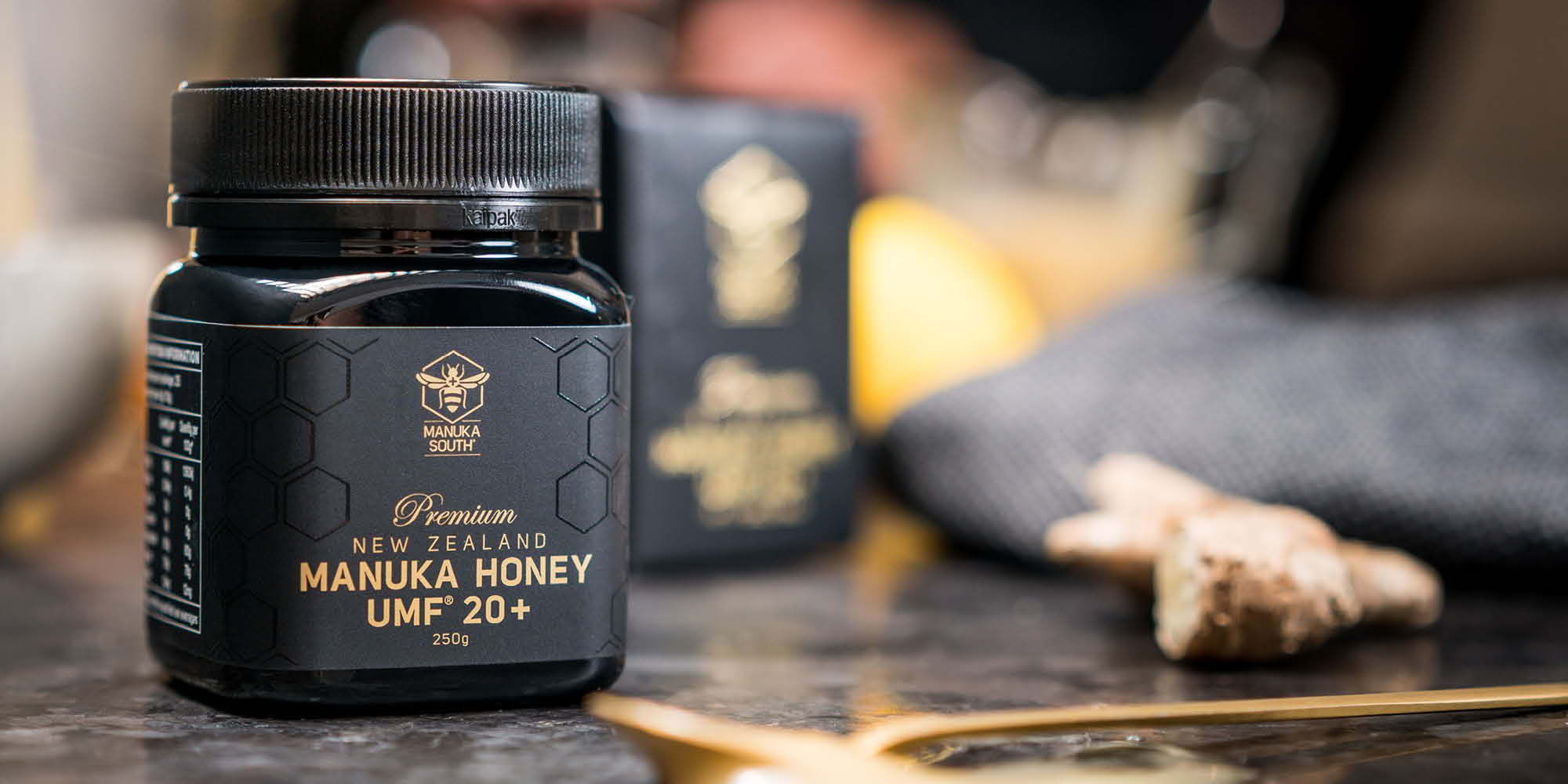 How do I know if my Mānuka Honey is legitimate?
Since the global surge in Mānuka honey sales, there have been a number of copycat brands in the market which have labelled regular honey as Mānuka honey.
To combat some of this, New Zealand's Ministry of Primary Industries (MPI) have begun regulating the export market more-heavily, and are looking to replicate this within New Zealand.
In 2016 an article published by the Daily Mail uncovered that New Zealand produces 1700 tons of Mānuka honey each year, however, as much as 10,000 tons is sold.
PRO TIP: If you're not sure, contact the honey brand directly to seek more information on their License.

For example, our brand Manuka South®, is owned by our parent company The New Zealand Health Food Company Limited, which means we can operate under the one license. We clearly display both logos on our UMF™ listing, however some companies may not.
You can find more information here: https://www.umf.org.nz/umf-members/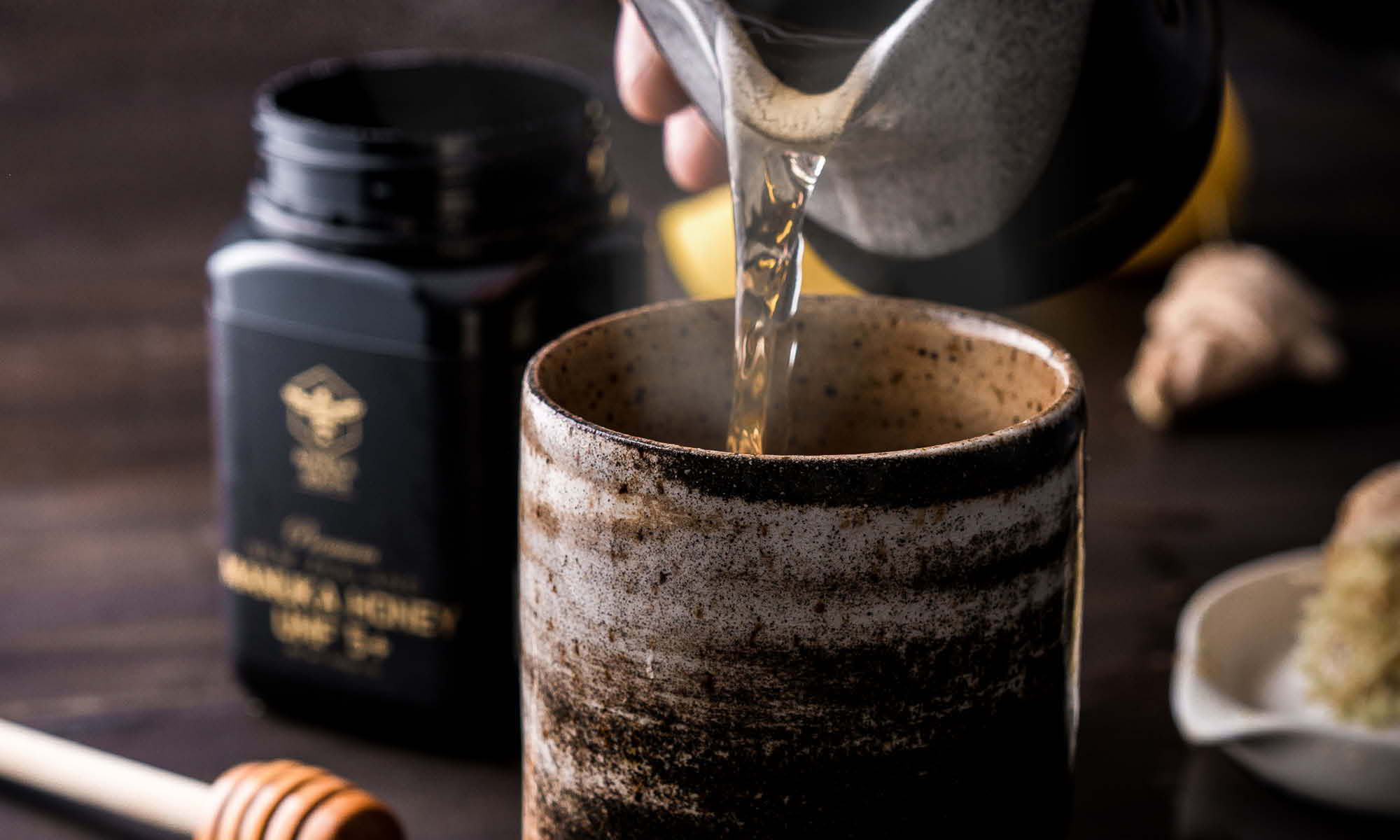 Many people consume a teaspoon of high strength Mānuka honey daily in an effort to boost overall health, immunity and ward off allergies.
A popular daily drink that is thought to detox the body and improve health, mixes a teaspoon of Mānuka honey, fresh lemon juice and two tablespoons of apple cider vinegar with warm water.
Topically Mānuka honey can be applied to the skin to help aid in the healing of minor cuts, scrapes, and skin ulcers by helping to prevent infection. Mānuka honey is also beneficial for people who suffer from acne or eczema. It can be added to lotions and cream to help support their effect.
If you or your little one is battling a cold, honey is a time honored remedy to help sooth a sore throat and help the body to fight off the various bugs that lead to cold and flu's. Mix a tablespoon of Mānuka honey, fresh lemon juice, and a teaspoon of cinnamon and eat straight off the spoon!
This concoction not only helps to relieve a sore throat and reduce inflammation but the honey and cinnamon act as powerful antibacterial agents that kill the bacteria that cause some illnesses and sore throats.
The benefits of UMF™ Mānuka honey are numerous. It is important to remember that Mānuka honey is very safe and will not cause any unwanted side effects in most people. If you are allergic to bees or are diabetic, then it is not recommended to use any type of honey.
That being said, you should feel confident that children and adults can benefit from a good quality Mānuka honey added to the diet on a regular basis.