UMF Grade: 16.9
Floral Descriptor: Manuka
Laboratory Test Results
MGO
-
630MG/KG
>512 MG/KG
Methylglyoxal For Potency
Methylglyoxal (MGO) is the source of mānuka honey's special antibacterial properties and an important potency measure. The higher the MGO, the stronger the concentration of MGO. The UMF™ guarantee means that you can be sure that Mānuka honey bearing the UMF™ mark contains this special activity.
MĀNUKA
-
663MG/KG
>100 MG/KG
Leptosperin For Authenticity
Leptosperin is a compound found only in mānuka flower nectar and can only be created by nature. Measuring this unique component ensures the authenticity of mānuka honey. Laboratory research also shows leptosperin content has anti-inflammatory properties that grows as the UMF™ scale increases.
Dihydroxyacetone For Shelf Life
Dihydroxyacetone (DHA) is slowly converted to MGO in healthy living honey. The higher the DHA content, the longer the life of the MGO content in your mānuka honey – which is why the best mānuka honey must have more than 70 mg/kg DHA to be UMF™ certified.
Hydroxymethylfurfural For Freshness
Mānuka honey is tested for Hydroxymethylfurfural (HMF), as this compound assures honey has not been overheated or stored too long, and is in the best condition to maintain the unique blend of living properties in mānuka honey.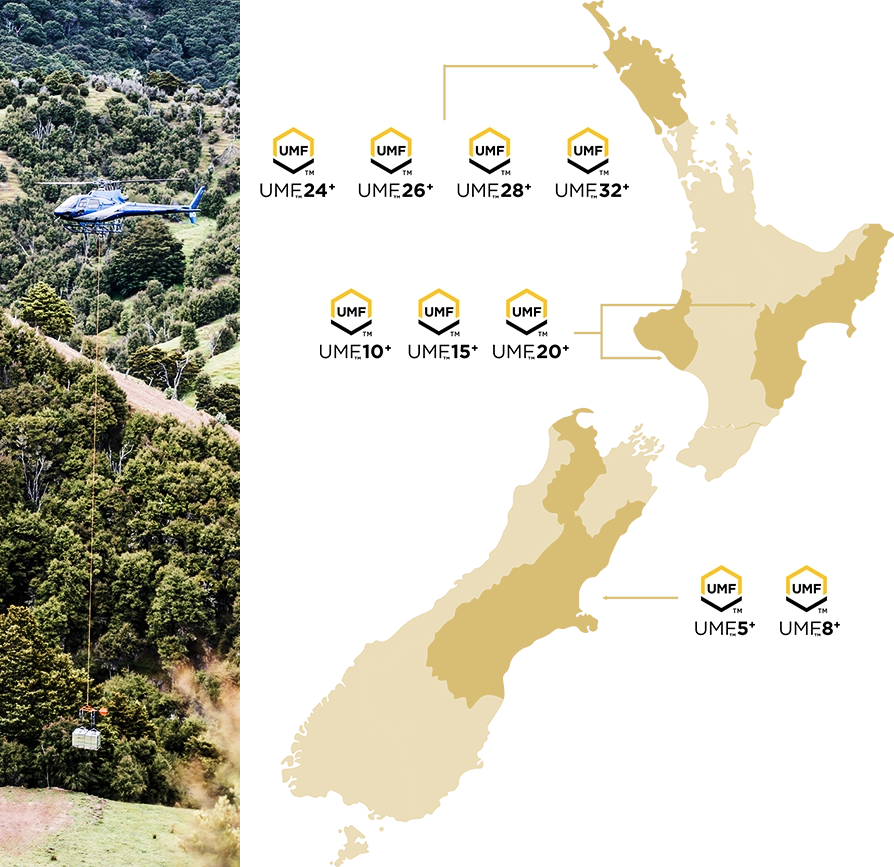 UMF Licensee: New Zealand Health Food Company Limited, PO Box 39-129, Christchurch 8545, New Zealand

Analytics Laboratories Ltd
(Lab Ref: 23-22058-1)Ruakura Research Center, 10 Bisley Road, Hamilton, 3214, New Zealand
Sample Recieved: January 27, 2021 | Reported: February 5, 2021