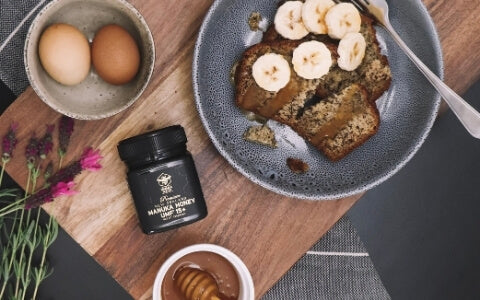 "Banana Bread" – as soon as you hear someone mention those two words you can't help yourself but drool, right? 
Currently, almost every second story we see across social media is a freshly baked, delicious loaf of Banana Bread. It's a classic comfort food that fills the whole house with warmth and seems to make everything better. 
So, we decided to make one ourselves, but we switched things up a little…
The bread we made is naturally sweetened by swapping out the sugar and replacing it with our Manuka South UMF 15+ Mānuka Honey. We can promise you that no-one will be able to tell the difference and that this is essentially a 'Healthy Manuka Honey Banana Bread'. We found the original recipe on 'food.com' and made some yummy healthy changes to make it our own!
Make your own Mānuka Honey Banana Bread! 
Prep Time: 10 mins
Cook Time: 55 mins
Total Time: 1 hour 5 minutes
Recipe makes: 1 loaf 
Ingredients 
⅓ cup melted coconut oil or extra-virgin olive oil or high quality vegetable oil*
2 eggs
2 large ripe bananas, mashed
¼ cup milk of choice or water
1 teaspoon baking soda
1 teaspoon vanilla extract
½ teaspoon salt
½ teaspoon ground cinnamon, plus more to sprinkle on top
1 ¾ cups white whole wheat flour or regular whole wheat flour
Totally optional: ½ cup mix-ins like chopped walnuts or pecans, chocolate chips, raisins, chopped dried fruit, fresh banana slices…
Instructions
Preheat oven to 325 degrees Fahrenheit (165 degrees Celsius) and grease a 9×5-inch loaf pan.
In a large bowl, beat the oil and honey together with a whisk. 
Add the eggs and beat well, then whisk in the mashed bananas and milk. (If your coconut oil solidifies on contact with cold ingredients, simply let the bowl rest in a warm place for a few minutes, like on top of your stove, or warm it for about 10 seconds in the microwave.)
Add the baking soda, vanilla, salt and cinnamon, and whisk to blend. 
Lastly, switch to a big spoon and stir in the flour, just until combined. Some lumps are ok! If you're adding any additional mix-ins, gently fold them in now.
Pour the batter into your greased loaf pan and sprinkle lightly with cinnamon. 
For a pretty swirled effect. TIP: Run the tip of a knife across the batter in a zig-zag pattern. (or any pattern you like)
Bake for 55 to 60 minutes, or until a toothpick inserted into the center comes out clean. Let the bread cool in the loaf pan for 10 minutes, then transfer it to a wire rack to cool for 20 minutes before slicing.
Now, time to serve! 
Treat yourself to your first slice and enjoy!
Why UMF 15+ Mānuka Honey?
Manuka South Premium UMF 15+ Mānuka honey is highly regarded as one of the most popular grades due to its rarity and stronger Mānuka flavours.
Only found in unique natural areas throughout beautiful New Zealand's remote back country, this is one of natures best gifts.
It has been known that when consumed regularly, UMF Mānuka Honey can help towards:
Aid wound healing
Promote oral health
Soothe a sore throat
Improve digestive symptoms