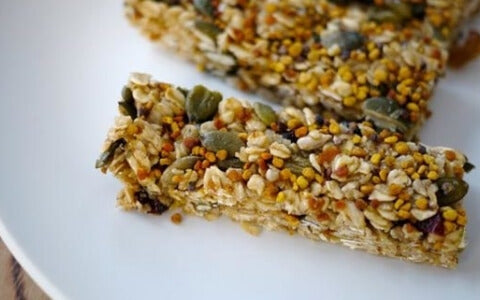 10 Step Bee Pollen Granola Bars
This recipe is one of our favorites. Not only is it a healthy treat for when you're on-the-go, but it's also super quick (there's only 10 steps)!
Bee Pollen Granules are an excellent and completely natural source of essential vitamins, minerals, amino acids, and enzymes.
Bee Pollen is collected by honeybees from the forests and pasture and is carefully dried to ensure there is no damage to or oxidation of the vital nutrients.
Bee Pollen Granules can be described as one of the richest and most-complete foods in nature.
The human body is made up of 22 essential elements and pollen is the only food that contains each and every one of them. It's a perfectly balanced natural multi-vitamin containing virtually all the essential nutrients necessary to sustain life.
Bee Pollen Benefits:
Supports general well being and energy levels
Helps to increase stamina, vitality and endurance
Help support the immune system, especially after illness
Delicious to eat in natural granule form
Rich in vitamins, minerals, proteins, enzymes and amino-acids, bee pollen acts as a natural energizer for the body and boosts the immune system.
This perfectly balanced 'super-food' has many other health benefits ranging from slowing the effects of aging on skin, to improving memory, and re-activating sluggish metabolisms.
Ingredients:
2 cups rolled oats
1/2 cup pumpkin seeds & sunflower seeds mixed
80 grams Manuka South M

ā

nuka Blend
40 grams light brown sugar
1 tsp. water
40 grams coconut butter, cut into pieces
1/2 tsp. vanilla extract
A pinch salt
1/2 cup mixed dried fruit (we liked a mixture of Goji berries and sultanas)
1 tbsp. Manuka South Bee Pollen Granules
How to:
Toss oats and seeds in a bowl.
Mix the honey, sugar and water in a bowl and melt in a pan over a gentle heat, stirring frequently to prevent the mixture caramelizing. Once it's melted, add the vanilla extract.
 In a separate bowl or pan, melt the coconut butter.
Turn the oven off and transfer the oats and seeds to a large bowl. Add the sugary mixture and dried fruit and mix thoroughly.
Next, mix in the melted coconut butter.
Place the mixture in a 20 cm x 20 cm baking tray or a 20 cm diameter quiche mold and spread it out gently. Sprinkle the top with bee pollen.
Press down firmly with a spoon to compact the mixture and leave to cool.
When the mixture is cool, place it in the fridge to harden.
Once hardened cut into equal pieces.
Enjoy!