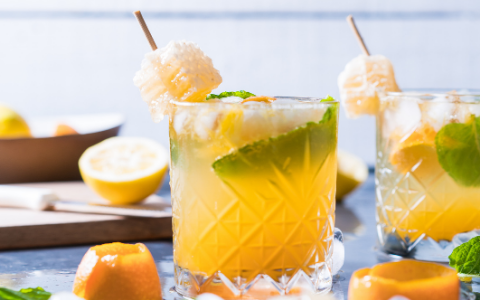 You are in for a real treat with this cocktail. The combination of naturally sweet and just the right amount of sour to make your lips pucker! To really get your guests wanting more, add some raw Honeycomb onto the platter to enjoy with cheese to have on the side.
Honeycomb – One of Nature's Hidden Gems
Honeycomb rustic, sweet, sophisticated, and rich – a completely natural way to elevate your plate, platter, or even better… your cocktail! Honeycomb is simply casings of the honey where the bees store their finished products. The casing is made of tiny hexagonal cylinders of wax, which is perfectly fine (and delicious) to eat! 
Manuka South Honeycomb is pure, raw, and completely edible – cut directly from the hive, straight to the jar! It is distinctively chewy, with a little crunch here and there from the bits of crystallized honey, and is oozing with liquid honey, making it sweet, rich, and extremely tasty.
Wanting to know other ways to enjoy Honeycomb? Read here: 5 ways to enjoy one of nature's hidden gems
Ingredients
1/4 cup hot water
1 1/2 tsp

 

Manuka South Mānuka Blend
1/2

 

Manuka South Honeycomb

 

– Cut into 2cm squares frozen, then put onto toothpicks
2 cups of ice cubes
3/4 cup chosen Gin
6tbsp dry vermouth
6tbsp Fresh orange juice
1/4 fresh lemon juice
1 cup of soda water
Orange rind strips
Directions
Combine 2tsp hot water and 2 1/4 Mānuka Blend in a cocktail shaker
Add 1 cup ice, 6tbsp gin, 3 tbsp vermouth, 3 tbsp orange juice and 1ounce lemon juice
Shake for 1 minute
Strain into 3 glasses
Top each with soda
Place orange rind strip in each glass
Add frozen

 

Honeycomb
Repeat the above procedure to make more
Recipe inspired by: My Recipes