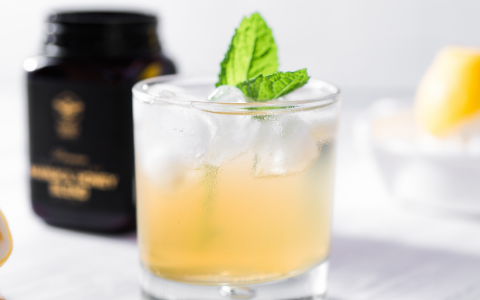 4 ingredients and ready to serve in less than 5 mins – This naturally sweetened Honey Lemonade is the perfect summer drink that will leave you and your family wanting more!
Not only is it a very refreshing drink that is packed full of natural flavours and all natural ingredients, it also contains our 2020 Top Seller – Manuka South Mānuka Blend.
Famous for Its Clean, Fresh and Pure Taste Mānuka Blend
Manuka South Mānuka Honey Blend is a premium hand-crafted blend of the finest honey. The base of this blend is our own Mānuka honey, famous for its clean, fresh and pure taste. Our Mānuka Honey's are always carefully graded and tested to ensure that only the finest product makes it into the jar.
You can enjoy our finest culinary Mānuka in your cooking or on your toast or added to your favourite summer drink such as below recipe. Mānuka honey is also a great home remedy with hot water to help the body fight a sore throat, it is also known to be a great energy boost!
No flavourings, colouring's, additives, or preservatives are added, just good honest honey!
4 Simple, Natural Ingredients That's Required
1 cup lemon juice (freshly squeezed is more refreshing however the bottled can still be used)
1/2 cup Mānuka Honey Blend (you can add more if you would like it sweeter)
3 cups warm water (Most recipes recommend using hot water to help the honey dissolve – but not too hot!)
1 cup ice cubes
Make Homemade Honey Lemonade in Less Than 5 Mins
Place all the above ingredients in a blender. Puree for 30 seconds – 1 minute to mix and dissolve the

 

Mānuka honey.
Serve immediately or store in the fridge until you are ready to serve